Last Updated on
As the old adage goes, "it takes two to tango", and for friendships, the same rings true.
Maybe you're highly-sensitive and making new friends is exhausting (BTW, if this is you, you should also read which crystals for empaths and HSPs we recommend).
Or maybe you're not looking for any new relationships but want to improve the existing friendships you currently have.
Whatever you're the reason, the Universe brought you to our cozy home on the internet because you're looking for help with friends. You are definitely not alone.
Using healing crystals for friendship will help you communicate your needs more effectively, feel more confident to pursue new friendships (or improve existing ones) and understand what it takes to keep a friendship in balance.
This article contains affiliate links. When you make a purchase from the links in this article, Divine Twist makes a small commission at no extra cost to you.
Why Should You Use Crystals for Friendship?
Relationships are complex and multifaceted. There is no "one-size-fits-all" approach to improving your relationships, especially when it comes to conflict management.
Using friendship crystals will help you break down your relationship to see which areas need the most improvement, and allow you to dive in deep to fix said areas, resulting in a flourishing friendship!
On the other hand, certain crystals are also helpful in encouraging you to put yourself out there and find people with who you click with.
Whatever your needs are, there's a crystal for you.
The Best Crystals for Friendships and Conflict-Resolution
These six stones for friendship, conflict-resolution, truth and companionship will help cleanse your relationships of toxic energies and allow you to maintain a healthy relationship with your friends, both near and far! Let's dive into some of our favorite friendship crystals!
1. Blue Lace Agate | Calmness & Communication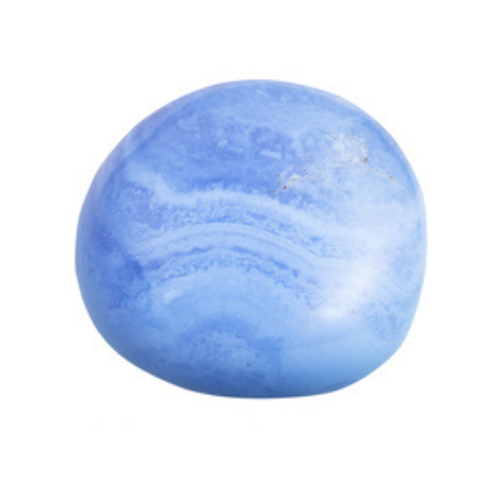 How to use this stone: Wear or meditate with Blue Lace Agate
Chakra: Throat
Picture yourself laying at the beach. The beautiful blue sea is lapping the shore and calmness is washed over you.
Blue Agate is reminiscent of a day at the beach with its brilliant blue exterior and white ripples.
While you might not be able to spend your days relaxing at the beach, Blue Agate will instill feelings of that same calmness and dispel any tension in your life.
For those in a row with a friend, Blue Agate will help you remain calm so you can think clearly and settle conflicts, preserving your friendship in the process. Your communication will be improved, allowing you to avoid conflict as a result of a misunderstanding and resolving conflict when it does arise.
SHOP BLUE LACE AGATE STONES HERE
2. Lapis Lazuli | Calmness & Communication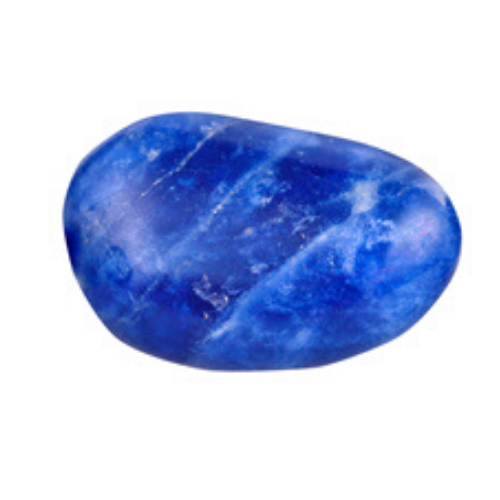 How to use this stone: Wear Lapis Lazuli or keep close to you throughout the day, especially when you are around friends and loved ones.
Lapis Lazuli is another stunning blue stone to help you make friends. If you struggle to stand up for yourself and voice your concerns, you'll want to incorporate this crystal for friendship in your life.
Lapis Lazuli, the crystal of truth, will help you find your voice and give you the confidence to speak your truth and tell your friends how you feel.
It will bring peace and balance to your relationships, allowing your friendships to blossom and grow. Lapis Lazuli will help you improve your self-awareness, which can be very beneficial for friendship and love.
If you are in search of crystals for long-distance friendships, Lapis Lazuli would make an excellent choice as it will strengthen your ability to effectively communicate.
SHOP LAPIS LAZULI at best price HERE
3. Unakite | Vitality & Love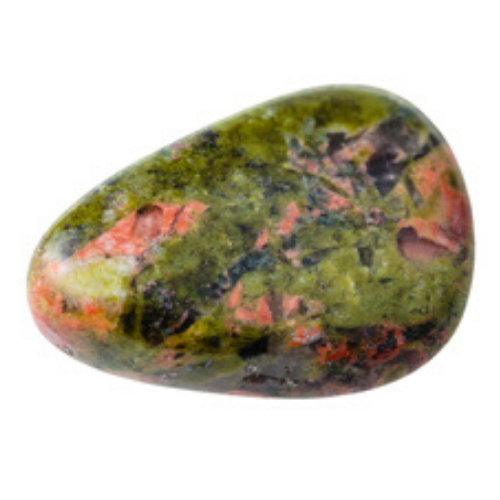 How to use this stone: Keep Unakite with you throughout the day, either in jewelry-form or in your pocket.
Chakra: Third Eye
Sometimes, before we can make new friends, we must first love ourselves. When your self-confidence shines, you'll attract new friends like never before.
But on top of that, Unakite will encourage you to live in the moment. If you're shy and scared to put yourself out there and meet new friends, Unakite is the trusty sidekick you'll want. Arming you with the tenacity to meet new people and develop relationships, Unakite is the perfect crystal for both friendship and self-love.
SHOP UKANITE at the best price here
4. Rose Quartz | Love & Friendship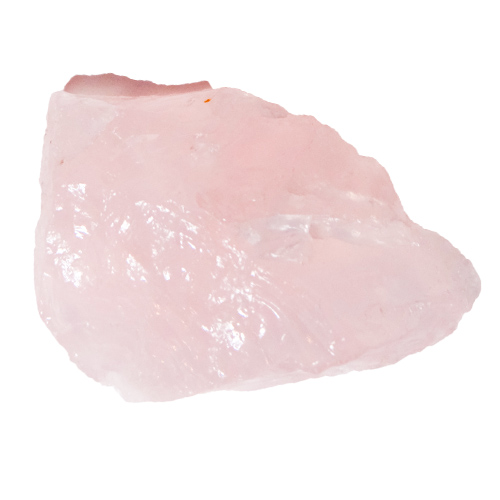 How to use this stone: Place this stone in different rooms of your home to attract friendship
Chakra: Heart
Pink stones, specifically Rose Quartz, are best known for their powerful ability to attract new relationships to your life.
But many people view Rose Quartz specifically for its powers in romantic love, but did you know that Rose Quartz is also a powerful friendship crystal? In all relationships, Rose Quartz provides balance.
A balanced relationship is incredibly important if you'd like it to last. Too much "give" or "take" from one person can destroy a friendship, which is why it's essential in your friendship crystal toolkit.
It's also very healing and soothing. If you're going through a rough patch with a friend, such as a fight or a disagreement, Rose Quartz will allow you to heal and feel peace.
Shop Rose quartz at the best price here
5. Carnelian | Creativity, Courage & Self-Esteem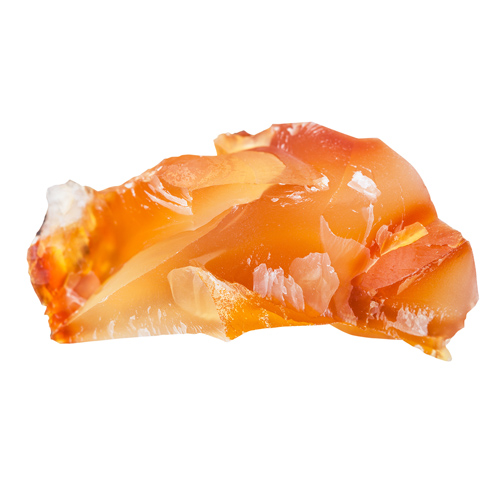 How to use this stone: Meditate with Carnelian on your Sacral or Base chakra, or in your hands.
When you think of a healthy friendship, you probably think of two people whose relationship exists without overwhelming jealousy, anger and envy. A friendship full of negative emotions is not a healthy one! To ward off those feelings, incorporate Carnelian into the mix. Carnelian is an excellent stone for conflict resolution because it helps prevent it from the start.
The joyous vibrations from Carnelian will allow you to feel at peace and protect you from negative emotions that might damage your friendships.
It encourages loyalty and will help strengthen your friendships for years to come.
Shop Carnelian at the best price here
6. Malachite | Growth, Love & Balance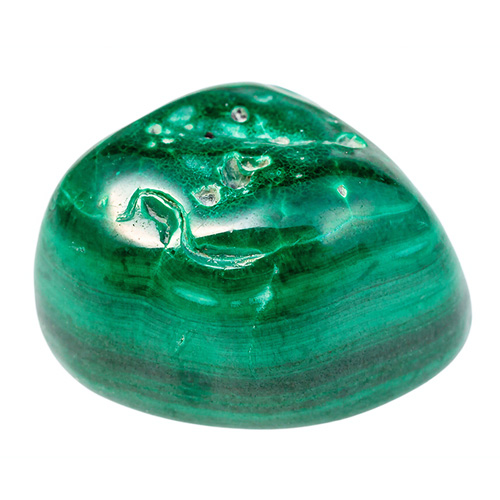 How to use this stone: Place Malachite nearby you. Cleanse Malachite regularly to rid of negative energies.
Chakra: Heart
Malachite is an ancient protection stone that is versatile and suitable for many different uses. One of the reasons we love Malachite so much is because you can apply it to different areas of your life. It's an excellent crystal for beginners.
First, Malachite will open your Heart chakra to accept and give unconditional love. It will help you become more empathetic, a vital skill to have when needing to improve relationships and conflict-resolution skills.
With Malachite, you'll be protected from negative energies that would otherwise be damaging to your friendships.
SHOP MALACHITE at the best price HERE
Tips for Using Gemstones for Friendships
There are so many different ways you can incorporate crystals into your life. We like to remind people that crystals are mostly flexible and that they should find a way that works best for them.
For example, if you struggle with speaking your mind and it's causing your friendships to suffer, consider carrying around Blue Lace Agate in your pocket so you will always be prepared for tough-conversations, no matter when they pop up.
When it comes to using stones for friendships, you might want to gift your friend a crystal for them to use as well. Friendship bracelets make the perfect gifts for both you and your friend.
This can be especially helpful for long-distance friends who want to strengthen their bonds with one another.
It's also important to work on yourself. You must love yourself before you can accept the love from others. Using crystals for self-love will help you become more confident so you can improve your relationships in the process.
What crystals do you want to try to improve your friendships? Let me know in the comment section.
Pin me: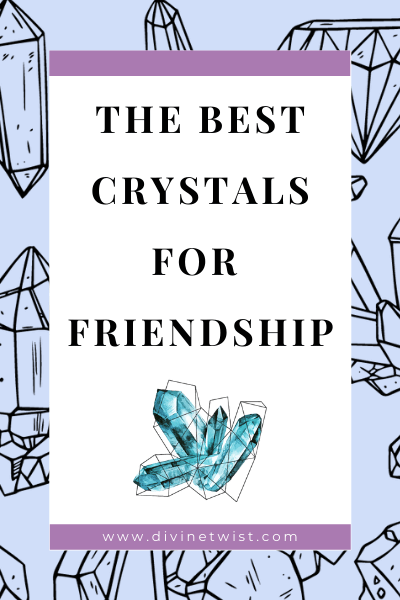 ---
Nothing we provide for you here is intended to replace any form of competent professional advice in any form. Please read our Terms & Condition for more information.